Please find below information about forthcoming events in Amersham. If any member is unable to make his/her way to Society meetings and would like transport to be arranged, please contact Geraldine Marshall-Andrew on 01494 433735.
Nov
30
Mon
Committee Meeting
Nov 30 @ 8:00 pm
If you wish to raise anything at the Amersham Society Committee Meeting, please contact the Chair, Dorothy Symes, on 01494 434858.
Dec
4
Fri
Late Night Shopping Evening

@ Old Amersham
Dec 4 @ 6:00 pm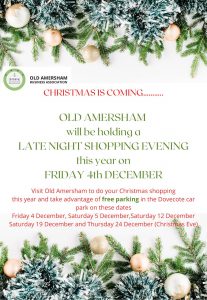 A Late Night Shopping Evening in Old Amersham will be hold on Fri 4 Dec. The event is organised by the Old Amersham Business Association.
Please do come to Old Amersham for your Christmas shopping this year and take advantage of free parking in the Dovecote Meadow Car Park on the following dates:
Fri 4 Dec,
Sat 5, 12, 19 Dec and
Thu 24 Dec (Christmas Eve).
Jan
6
Wed
Twelfth Night Revels

@ Zoom
Jan 6 @ 7:45 pm
At our most recent Committee meeting we were thinking about the many members who will find Christmas this year a rather more isolated affair than anything to which they are accustomed and wondered if we might do an extra Zoom event to mark the season. As the result the Twelfth Night Revels on 6 Jan 2021 were proposed.
To our delight Judy and Mike Consden kindly agreed to help us to produce the show. Now we are calling for the local talents among our members to take part.
The event will be a collection of members' favourite light-hearted pieces – a poem, a song, an extract from a play, a short story: think Vera Lynn, Lady Bracknell and that handbag, Pam Ayres, Albert & the Lion.
A dozen or so contributions lasting anywhere between 2 to 5 minutes each will provide a programme of about an hour. Judy and Mike will host, providing short introductions for each piece.
Please tell us about your contribution through mikejudy@aol.com by the end of November to give us time to set up the programme.