Please find below information about forthcoming events in Amersham. If any member is unable to make his/her way to Society meetings and would like transport to be arranged, please contact Geraldine Marshall-Andrew on 01494 433735.
Aug
25
Sun
Summer Band Concert

@ Memorial Gardens
Aug 25 @ 2:30 pm – 4:30 pm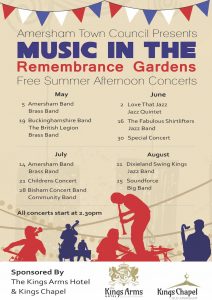 The Amersham Town Council presents Music in the Remembrance Gardens Summer Band Concerts.
This year performers include Amersham Band, Buckinghamshire Band of The Royal British Legion, Love That Jazz Quintet, Fabulous Shirtlifters Jazz Band, Bisham Concert Band, Dixieland Swing Kings Jazz Band and Soundforce Big Band.
The concert is free and starts at 2.30pm.
Sep
8
Sun
Amersham Heritage Day 2019
Sep 8 @ 11:30 am – 5:30 pm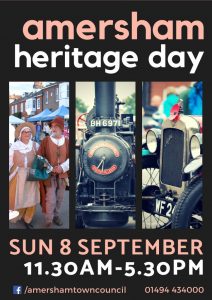 This year's Amersham Heritage Day will return to Old Town on 8 Sep.
Please look out for more information on the format of the day on the Amersham Town Council website www.amersham-tc.gov.uk as well as their Facebook www.facebook.com/amershamtowncouncil and Twitter @AmershamTC pages.
The Town Council will be providing updates of the event on their social media accounts using #AmershamHOD2019.