Please find below information about forthcoming events in Amersham. If any member is unable to make his/her way to Society meetings and would like transport to be arranged, please contact Geraldine Marshall-Andrew on 01494 433735.
Sep
30
Wed
Troye Cottage – an Ordinary House

@ Zoom
Sep 30 @ 7:45 pm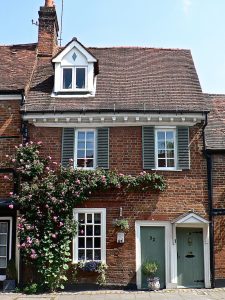 (PLEASE NOTE THE CHANGE OF SPEAKER AND SUBJECT – the talk "A History of the Seaside Postcard" by Phil Storr will be rescheduled for a later date)
In our September talk "Troye Cottage – an ordinary house" Peter Borrows will tell us about one of the houses in Whielden St in Old Amersham, the people who lived there, the rather quirky nature of the building and why it was built that way. He will also describe how he and his wife set about finding its history and raise some still unanswered questions.
The talk starts at 8.00pm. Members for whom we have an email address will receive the invitation the week before the meeting. Non-members can request an invitation at info@amershamsociety.org.
Oct
28
Wed
Annual General Meeting

@ Zoom
Oct 28 @ 7:45 pm
The Society's Annual General Meeting will be held on Wed 28 Oct 2020 on Zoom. The 'meeting room' will open at 7.45pm, the AGM will start at 8.00pm sharp and it will be followed by a talk.
AGENDA
Apologies for absence.
Minutes of the 2019 Annual General Meeting and business arising.
Chairman's Annual Report.
Honorary Treasurer's Report and Statement of Accounts.
Election of Committee Members and Officers.*
Election of Independent Examiner of the Accounts.
Any other business.
TALK
"The Work of the Horse Trust, Speen" by Alice Morgan who will tell us about the Trust's work offering retirement and respite for working horses and ponies and also sanctuary for those horses, ponies and donkeys that have suffered cruelty and neglect.
* Election of committee Members and Officers Nominations should be sent by 21 Oct to the Hon Secretary at 162 High St, Amersham, HP7 0EG.
Nov
25
Wed
With the Gurkhas on India's North East Frontier

@ Kings Chapel
Nov 25 @ 7:30 pm
A talk by former Chairman of the Amersham Society, Martin Brooks, about his recent visit to the North East Frontier.
Coffee/tea and biscuits will be available from 7.30pm. The talk starts at 8.00pm. No booking necessary. Guests and new members welcome.
On-site parking is normally available and there is good disabled access.