At 7.00am on Friday 27 June Serco street cleaners descended on Amersham High Street and found that one side of the road was practically clear of parked cars. They were able to do a far better job thanks to the efforts of the Amersham Society and the cooperation of residents.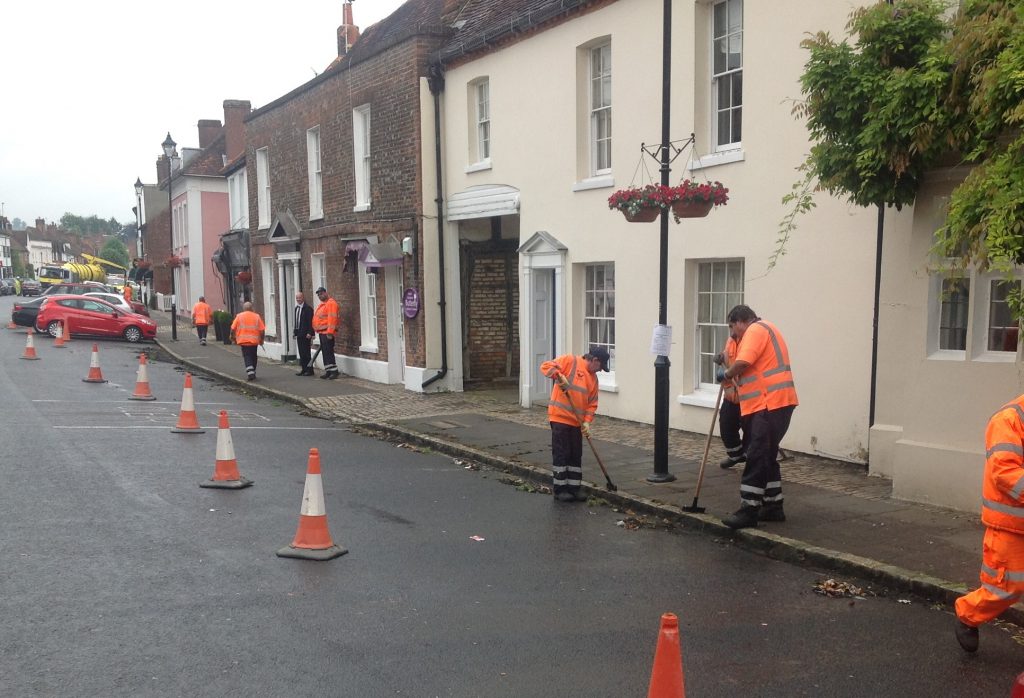 Clearing the streets of Old Amersham to enable street cleaning has been a problem for many years, despite the best efforts of Chiltern District Council and Serco in ticketing residents. In the past when residents responded to Chiltern District Council's request to move their cars, they found that the space that they vacated was filled by another car and it appeared to be a pointless exercise. Having identified this problem, the Amersham Society contacted Chiltern District Council with an offer to put out cones the night before and we were very pleased that following meetings between the Society, Chiltern District Council Officers and Serco supervisors a plan was agreed and tried for the first time last Friday.
The Amersham Society distributed letters to all residents on both sides of the High Street to give warning of the cleaning dates and to explain the new procedure including Chiltern District Council's offer of free parking in Dovecote car park until 11.am on street cleaning days, to encourage residents to move their cars. Serco delivered 90 cones which Society members distributed along the road so that they could be put in spaces once the daytime parkers left. We didn't want to discourage motorists parking during the evening when they visited pubs and restaurants so a notice on most of the cones stated, "If you choose to park here, please ensure that you move your car by 6.00am."
On Thursday evening, the street was packed with cars as usual, but by Friday morning nearly all had left and it was clear that we had been successful. Only 14 cars remained on that side of the road – at least two on holiday – and there were long, clear stretches of the road that could be cleaned much more effectively than ever before.
When Transport for Bucks learned that the road would be clear, they also brought their equipment to clean out the gullies. This task was particularly important to them following the flooding in Amersham earlier in the year.
George Allison, acting Chairman of the Amersham Society said, "this was a really good example of residents helping a local council to deliver a more effective service and it worked even better than I had hoped. We are particularly grateful to the residents who cooperated in this important venture. We will follow this procedure on the last Friday of every month when first the other side of the High Street and subsequently other streets in the centre of Old Amersham will be cleaned."
Martin Pounce, acting Vice-Chairman of the Amersham Society said: "We all have an interest in having clean streets and the Amersham Society members were pleased to help. We believe it could provide a model for other towns in Chiltern and High Wycombe Districts where similar problems exist."
The Amersham Society is grateful for the understanding and support of pubs in the High Street which helped to inform their customers about this initiative.
To see more photos of an almost empty High Street click below.