Market Hall Lift
Statement made by Clive Morgan at Amersham Town Council's Annual Meeting on Monday 12 March 2018
Market Hall- never far from our thoughts!
On behalf of the Town Council I am pleased to inform you that we are in confidential negotiations with a third party which will improve usability and functionality of the Market Hall, a treasured asset within Old Amersham. With the Town Council wholeheartedly appreciating the need for better accessibility to the Hall I can assure you that as well as protecting the historic value of the building, access, is at the forefront our discussions. While these negotiations are ongoing we envisage that a proposal will be made public within the next 60 days.
 So we can expect a statement by mid-May.
Watch this space!
BACKGROUND INFORMATION: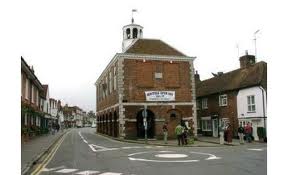 The Amersham Society has for the last eight years petitioned Amersham Town Council to install a disabled lift in the Grade 11* Listed Amersham Market Hall, originally built in 1682 and  much loved  iconic building in the life of the Town, well used by the Society and for many other public and private functions.
In 2010 the Society wrote more formally to Amersham Town Council as owners of the building,
"To propose a joint initiative between Amersham Town Council the owners of the Market Hall and the Amersham Society to install a suitable platform lift with associated structure and lavatory which would facilitate full disabled access with facilities at Old Amersham Market Hall. The Committee of the Amersham Society believe a sensitive installation compliant with current disability and other related legislation and with the Market Hall's Listed status would make this much loved and iconic building fit for purpose in the 21st century. This would enhance its life, usefulness and income earning potential for many years to come.
It would certainly bring much pleasure to the many members of our community and members of the Amersham Society who wish to participate in the life of our community and are currently unable to do through disability and their inability to climb the very difficult stairs to the Market Hall or use its associated lavatories which are on a further floor higher."
The Society has established that a platform lift arrangement is likely to be suitable and would probably gain listed building consent from English Heritage and Planning Permission from Chiltern District Council the Local Planning Authority. Such an installation, associated building work together with permissions and feasibility studies would cost in the order of £40,000 and the Amersham Society have pledged to Amersham Town Council a sum of £4,000 over four years to help achieve this.
We are very pleased that Amersham Town Council tooks a major step forward at their full Council meeting on Monday 19th November and will now look at this seriously as part of an overall study lead by Cllr Nigel Shepherd to see how best to upgrade the Market Hall overall.
If you support our objectives, find access to the Old Market Hall a problem- for instance if you are a mother with young children or have a disability or would like more information, please contact  the Society on info@amershamsociety.org This email address is being protected from spambots. You need JavaScript enabled to view it. , or Martin Brooks chairman of the Society ( martinbrooks@dial.pipex.com This email address is being protected from spambots. You need JavaScript enabled to view it. ) or Christoph Geppard from the committee who has undertaken the feasibility work ( Tel: 01494 7266678).
Also post you views on Twitter: @AmershamSociety.
Please also lobby Amersham Town Councillors to get behind this necessary project.
OUR AIM IS TO GET A FIRM COMMITMENT BY AMERSHAM TOWN COUNCIL TO PROCEED WITH THIS PROJECT IN 2012.