Please find below information about forthcoming events in Amersham. The Society's lectures are now returned to the Kings Chapel. If any member is unable to make his/her way to these meetings and would like transport to be arranged, please contact Geraldine Marshall-Andrew on 01494 433735.
Jun
13
Mon
River Misbourne Drop-In Sessions

@ Barn Meadow Pavilion
Jun 13 @ 10:00 am – 7:30 pm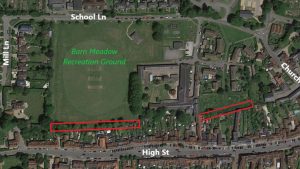 FiveRivers are working with Affinity Water and Amersham Town Council to restore two sections of the River Misbourne in Barn and Pondwicks Meadows in Old Amersham. This is part of Affinity Water's River Restoration Programme for 2020-2025.
To discuss proposed plans they will be running a day of drop-in sessions at Barn Meadow Pavilion on Mon 13 Jun at 10am, 2pm, 5pm and 7:30pm.
All are welcome to attend. For those who are unable to attend but would like to submit a comment, please email Oliver Etherington at etherington@five-rivers.com or express their views on the current state of the river by filling in the online questionnaire.
Jul
2
Sat
PSA Testing Day in South Bucks

@ Wycombe Arts Centre
The Chilterns Prostate Cancer Support Group contacted us and asked to share the information that a PSA Testing Day has been arranged for the South Bucks area. It will be held on Sat 2 Jul 2022 at the Wycombe Arts Centre, 15 Desborough Road, High Wycombe HP11 2PU.
Testing is open to all men over 45, but trying to focus on those in a higher risk category namely Afro-Caribbean men, Asian men and all men with a history of prostate cancer in their family. It is free. Online booking is essential.
To find out more details please read the Announcement from the organisers.
To make appointments for PSA tests please visit www.gfct.mypsatests.org.uk.