In March 2016 the Amersham Society sponsored the production of the community play, The Life and Times of the Martyrs of Amersham. This was the 4th time this highly acclaimed play had been produced by Stan Pretty, assisted by Sally Alford, in St Mary's Church, Old Amersham. The 2016 production was as successful as its predecessors.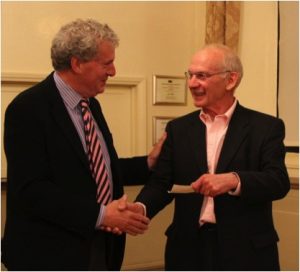 On the 28th April, the Friends of the Amersham Museum invited Stan Pretty to talk about how the production came about 15 years ago and the historical research that went into the play, research both about the Lollards of Amersham and about life in Tudor times that greatly informed the market and fair scenes.
At the end of the talk, as a fitting climax, Martin Pounce, Chair of the Amersham Society, presented Gary Gotch, Chair of the Amersham Museum, with a cheque for £5700, the profits from the production (pictured above).
Martin Pounce in presenting the cheque said:
We in the Amersham Society have watched the Amersham Museum develop from small beginnings 25 years ago into a stimulating and informative visitor attraction which is the jewel in our community. We are excited by the museum's plans for expansion and pleased that, thanks to ticket sales and generous sponsorship, we have been able to make this contribution to the Museum's ambitious fundraising effort.
Gary Gotch, in accepting the cheque, commented:
Stan and his community players put on a fabulous show. It was a privilege to be there. This fabulous cheque reflects both the quality of the performance and the commitment of the Amersham Society to supporting the Amersham Museum. We are hugely grateful.
The money will go towards the expansion of the Museum into the building next door. This will increase the space available by 65% and conversion work will start later this year.